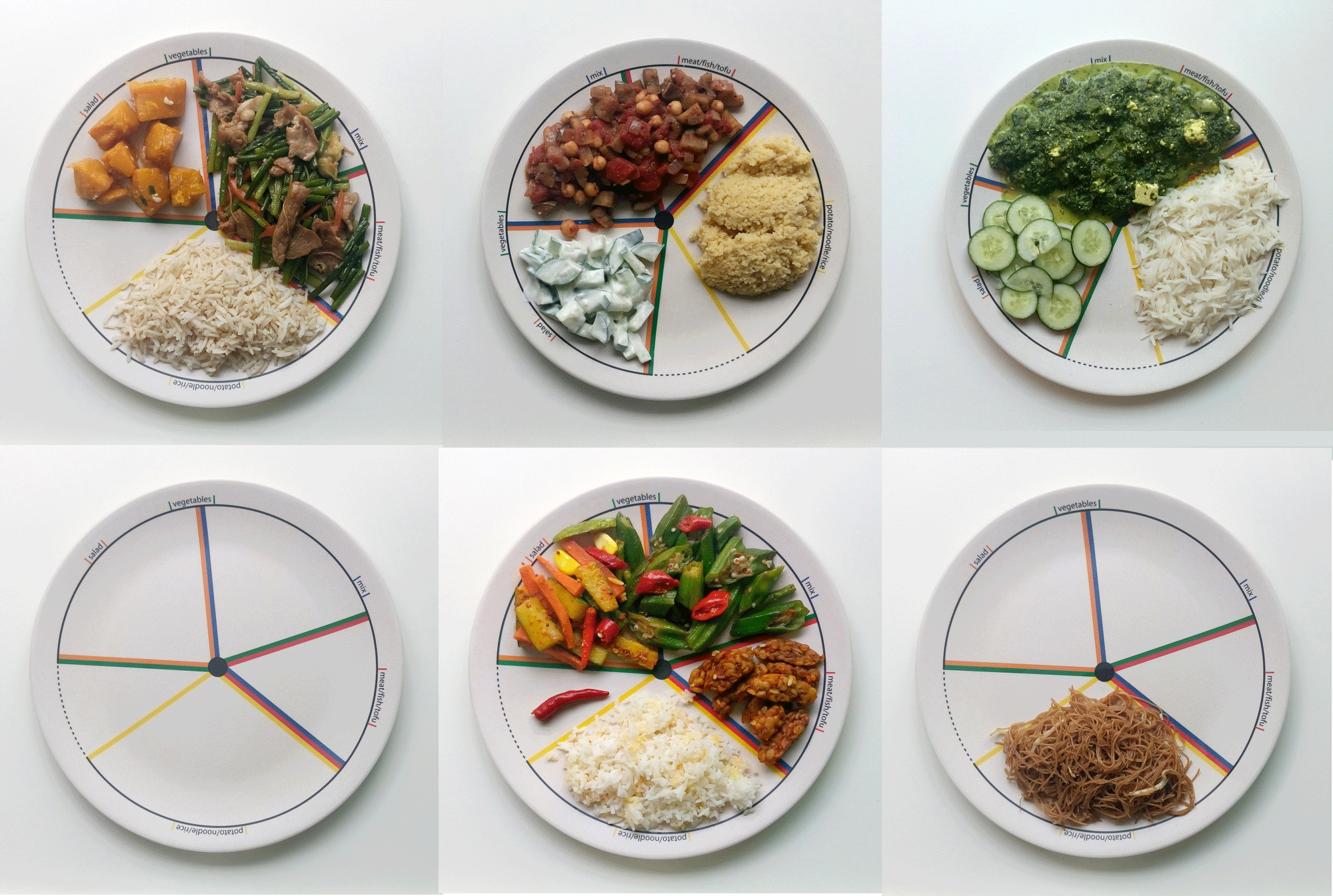 Year: 2013-2017
Client: Self-initiated
My role: I was wearing many hats during this project, first as a designer but I was also responsible for the logistics, social media, web shop and business development.
Impact: Sold over 2000 ETE plates worldwide and scientifically proven effect on food group guideline adherence by Cambridge Journal of Nutritional Science.
The ETE dinnerplate is simple plate that helps people eat balanced meals. Designed based on US, UK & EU nutritional guidelines, ETE can be used for a meal made up of protein, vegetables and starch. With one simple graphic, users can eat all their daily dinners from this plate.
Mixed Meal
How about a tofu and vegetable stir fry? Great choice. Place your stir fry between the blue lines, your rice/noodles between the yellow, and some extra salad between the orange lines.
Separated Meal
Fancy steak and chips for dinner? Sure thing. ETE's colored lines guide you into serving just the right amount of protein (red) and starch (yellow), along with your recommended portion of veggies (green) for your meal.
The first idea for the ETE Plate sprouted in May 2008 and came from my Bachelor's final year project at the Delft University of Technology.

After having been shelved for years after graduation, new interest came for the ETE Plate when I moved overseas to Singapore. Suddenly people started to ask if they could buy the ETE Plate.
Market research followed, prototypes were created and production facilities researched.

The search for a socially sustainable production factory had proven to be difficult in Asia and a social enterprise in Netherlands was perfect for the task. Social Enterprise Mooi B.V. produced the first series of ceramic silk-screened ETE Plates, in English & Dutch.
The first series sold-out quick and was popular in the United States. Americans would even order the Dutch version so they would not miss out.
Higher quantities were needed and I teamed up with Chenting Zou to search production facilities in Asia. Different material options were researched. We sought a material that would be easier to ship: lighter (thus more environment friendly) & less fragile. We settled for bamboo corn starch melamine.

From 12 June till 12 July 2015 we successfully crowdfunded for the start of production of the ETE Plate on Indiegogo.
We were featured on FastCompany, Bright, Lifehack and Brit & Co among others.
We produced the ETE Plate in China and set up a distribution warehouse in the US. I designed a webshop from where we sold ETE Plates worldwide to 1000+ consumers.
ETE Plate's impact on lifestyle change was tested together with the Yulius Academy in the Netherlands (qualitative research within the ThinBizzy project) and with KK Women's and Children's Hospital in Singapore (quantitative research).
Results of the KK Women's and Children's Hospital in Singapore, published in the Cambridge Journal of Nutritional Science, show users eating from the ETE plate to increase their vegetable intake and decrease their starch intake.
Early 2017 we decided to stop consumer sales because shipping cost proved to be too high to make a profit from selling the ETE plates to individuals. We focussed instead on B2B sales. The ETE Plate can still be bought in large quantity.